Building Web Applications
Using JavaScript, MochiKit and Dojo
Part II - MochiKit
Anant Narayanan
Malaviya National Institute of Technology, Jaipur
Overview - Part II
Introduction to MochiKit
Making AJAX work
Functional programming
DOM Manipulation
JavaScript Interpreter
Introduction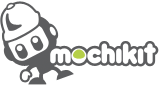 MochiKit makes JavaScript suck less!
Bob Ippolito's brainchild
Programmer's Paradise!
Extremely well thought out and heavily documented
"Borrows" lots of ideas from Python and Twisted
Using MochiKit
Does not interfere with other JavaScript Code
Possible to prevent functions from being exported to global namespace
Available as "Packed&quot' and "Split" versions
Split into 14 categories: Asyc, Base, DOM, DragAndDrop, Color, DateTime, Format, Iter, Logging, LoggingPane, Signal, Style, Sortable, Visual
Program, don't design with this!
More of a programming aid than a visual widget/animation set
DragAndDrop, Visual picked from script.aculo.us
Added only recently, buggy...
Other 12 categories rock!
Let's take a look at them...
AJAX with MochitKit.Async
Uses Deferred object, much like in Twisted
Represents a value that you don't have with you yet
Attach callbacks to the object, they are called when value is ready (or error is encountered)
Or use the doSimpleXMLHttpRequest to send a quick GET request to a URL (returns a Deferred object)
Use the getXMLHttpRequest method to obtain a XMLHttpRequest object transparently
Quick and Painless, abstracts all browser incompatibilities!
Functional programming with MochiKit.Base
Excellent methods to make programming easier
Use compare to sensibly match two objects: Arrays, Dates, Strings and Numbers
You can add your own custom comparator with registerComparator
Provides programmer representation, just like repr in Python
Evaluate JSON strings (evalJSON) and create serialized JSON from objects (serializeJSON)
MochiKit.Base (continued)
Want to copy over key:value pairs to an existing object? update it!
What to use an exclusively mutable object? clone is your friend!
Want to iterate over a tree of objects? Check out nodeWalk!
Want to apply the same function on all objects of an array? Just map it!
Want to supply only partial arguments to a function? partial lets you do just that!
Lots and Lots of more nifty stuff... Python programmers feel at home :)
DOM it with MochiKit.DOM
Easily the best DOM creation and manipulation API
Creating Nodes is a piece of Cake with createDOM
Commonly used tags are available as aliases to make things even more easier! (A, BUTTON, DIV, TABLE etc.)
Get DOM nodes based on their class with getElementsByTagAndClassName
Convert your own objects into DOM Nodes using registerDOMConverter
scrapeText out of any DOM Node of your choice
All the standard DOM functions have wrappers with added functionality...
MochiKit.Color and MochiKit.DateTime
CSS3 based Color abstraction
Interconvert Strings, RGB, Hex, HSV and HSL values
Control brightness, intensity and alpha values
Convert between ISO and JavaScript Date objects
MochiKit.Format and MochiKit.Iter
Do all kinds of string formatting
Inspired by the Number format pattern Syntax of Java
Iteration in JavaScript made easy, again, inspired by Python's iteration and itertools modules
Add iteration capabilities to your custom objects with registerIterator
forEach is most useful when you need to iterate over an iterable
Standard stuff like count, next, range available
Debug with MochitKit.Logging
Stop peppering your code with alert!
JavaScript logs viewabale in FireFox
Otherwise use the LoggingPane
Opens up a popup window, very useful for debugging
Use the log method, different levels such as DEBUG, INFO, WARN possible
Handle events with MochiKit.Signal
More amazing than MochiKit.DOM!
Connect DOM events, Browser events, Object events freely through unified API!
Mother of all event API's - single connect function
All DOM events converted to lower case: onClick becomes `onclick'
Synthesized events like onmouseenter
Based on Qt's signal-slot system
Use signal to trigger your own signal
Spice up with MochiKit.Style and MochiKit.Visual
CSS and Visual Effects
Mostly adapted from script.aculo.us
Modify CSS characteristics, hide and show elements
Some good transition effects
No layout and widgets though...
Dojo and script.aculo.us better at this kind of stuff :)
MochiKit.DragAndDrop and MochiKit.Sortable
Easy to use, smooth drag and drop
Not very powerful though!
Nice if your app doesn't need very snazzy stuff
And it's quite light...
The MochiKit JavaScript Interpreter
It's the icing on the cake!
Enables efficient debugging and rapid prototyping
Quickly try out MochiKit (and other) JavaScript methods
Yeah, it's like the Python Interpreter... Again!
Okay that's enough of programming...
How do I make websites with amazing looks?
Dojo will take care of your appearance...
Any questions so far?